Contact Information
Hours of Operation
Monday - Friday
7:30 AM to 3:30 PM CST
Address
3700 N Classen Blvd, Suite 215
Oklahoma City, OK 73118
Phone
Toll-Free: 1-877-239-9308
Email
About Us
Welcome to JAMSpiritSites.com, the world's first and largest producer of cheerleading websites. Co-founders Aaron Cox and Matthew James, both with an extensive cheerleading background, along with our wonderful staff, are dedicated to producing the absolute best possible web solution for cheerleading gym owners around the world. We are committed to listening to each need and producing results that make sense. Our sincere wish is to help establish great relationships, build better businesses, and offer the freedom to enjoy what drew us all to this unique sport called cheerleading: teaching the youth of America to dream, work hard, and accomplish amazing feats!
We praise God for the difficult as well as the phenomenal events that have shaped our lives. We encourage all to seek your individual path to Jesus Christ and to have an intimate relationship with Him.
We thank our God Almighty above all and would like to extend our special thanks for His gifts of friendship, encouragement, and mentorship to the following men and women who have played such an instrumental role in the growth and development of our company:
Mr. J. David Terrell
Mr. Bill & Mrs. Judy Putnam
Mr. Gary & Mrs. Mona Estes
Mr. Jon & Mrs. Tammy Estes
Mr. Don Cox
Mrs. Ann Payne
Mr. Allen Shearer
Mr. Bob Outland
Mr. Richard Horton
Thank you to our families, who have stood and continue to stand with us, for their support and strength through the good times and bad. Thank you for sharing your lives with us and encouraging our dreams.
And, finally, we would like to thank our clients. To recognize a few would be impossible. For those of you who have been with us since the beginning and watched, sometimes laughed, as we've grown, we thank you deeply. And for all our clients, or better, friends, we enjoy servicing your web needs, but, moreover, our conversations, laughter, challenges, growth, and fellowship together.
Thank you all, and may God bless.
Achievements
2008 Industry Honorees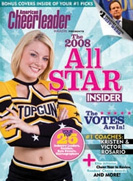 In their 2008 All Star Insider, American Cheerleader Magazine listed our company as one of the industry's honorees. They even called up our friend, Jon Estes, over at Miss Tammy's All-Star Co, & he told them,

"They're not just computer geeks who aren't familiar with the industry... They develop software because they know what we need. They were involved in cheerleading, they understand where it's going and they listen."

Thanks, Jon! And thanks American Cheerleader Magazine, too!
2007 Most Influential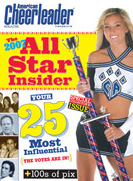 We have been so blessed with a feature in American Cheerleader Magazine's 2007 All Star Insider as one of the most influential companies in cheerleading today. Here's a short excerpt:

"There are many reasons JAMSpiritSites.com has become one of the most popular choices among gym owners as the go-to company for customizable web design and service, but it's the passion behind it that co-founders Matthew James and Aaron Cox feel is the real reason their company has become so successful so fast with approximately 450-plus gyms in their client pool."

What an honor! Thanks to all our clients who make this possible, all those cheerleaders who surf the web! - & of course, ACM for printing up the article!
Scripture
So often we find ourselves faced with a situation we don't understand, a feeling to which we frequently succumb, a need we long to fulfill. We are human. Heaven is a perfect place, but earth is not. Life can be very difficult sometimes and very rewarding others. And through it all, it can sometimes be tough to discern whether or not we're doing the right thing, or if we're on the right path.
In Revelations chapter 12 it is revealed to us, after the war in Heaven, that "The great dragon was hurled down - that ancient serpent called the devil or Satan, who leads the whole world astray. He was hurled to the earth, and his angels with him." (v9) Then verse 12 tells us that the enemy "...went off to make war against the rest of her offspring - those who obey God's commandments and hold to the testimony of Jesus."
There is a God and there is an enemy of God. That enemy is here on earth. Jesus' example in Matthew chapter 4 teaches us how to fight back - with scripture, with the Word of God.
Battling Satan
Matthew 4:10: ...Get thee hence, Satan: for it is written, Thou shalt worship the Lord thy God, and him only shalt thou serve
Matthew 16:23: ...Get thee behind me, Satan: thou art an offence unto me: for thou savourest not the things that be of God, but those that be of men.
Galatians 6:17: From henceforth let no man trouble me: for I bear in my body the marks of the Lord Jesus.
Building a Relationship with God
Revelation 3:20: Behold, I stand at the door, and knock: if any man hear my voice, and open the door, I will come in to him, and will sup with him, and he with me.
John 8:12: Then spake Jesus again unto them, saying, I am the light of the world; he that followeth me shall not walk in darkness, but shall have the light of life.
Philippians 4:8,9: Finally, brothers, whatever is true, whatever is noble, whatever is right, whatever is pure, whatever is lovely, whatever is admirable - if anything is excellent or praiseworthy - think about such things. Whatever you have learned or received or heard from me, or seen in me - put it into practice. And the God of peace will be with you.
Guilt
1 John 1:9: If we confess our sins, he is faithful and just to forgive us our sins, and to cleanse us from all unrighteousness.
Hard Times
I Corinthians 10:13: There hath no temptation taken you but such as is common to man: but God is faithful, who will not suffer you to be tempted above that ye are able; but will with the temptation also make a way to escape, that ye may be able to bear it.
John 15:19: If ye were of the world, the world would love his own: but because ye are not of the world, but I have chosen you out of the world, therefore the world hateth you.
John 16:33: These things I have spoken unto you, that in me ye might have peace. In the world ye shall have tribulation: but be of good cheer, I have overcome the world.
I Peter 2:19-25: For this is thankworthy, if a man for conscience toward God endure grief, suffering wrongfully. For what glory is it, if when ye be buffeted for your faults, ye shall take it patiently? But if, when ye do well, and suffer for it, ye shall take it patiently, this is acceptable with God. For even hereunto were ye called: because Christ also suffered for us, leaving us an example, that ye should follow his steps: who did no sin, neither was guile found in his mouth: who, when he was reviled, reviled not again; when he suffered, he threatened not; but committed himself to him that judgeth righteously: who his own self bare our sins in his own body on the tree; that we, being dead to sins, should live unto righteousness: by whose stripes ye were healed. For ye were as sheep going astray; but are now returned to the Shepherd and Bishop of your souls.
Ecclesiastes 7:14: When times are good, be happy, but when times are bad, consider: God has made the one as well as the other.
Living with an Eternal Perspective
I John 5:11,12: And this is the record, that God hath given to us eternal life, and this is in his Son. He that hath the Son hath life; and he that hath not the Son of God hath not life.
Revelation 1:3: Blessed is he that readeth, and they that hear the words of this prophesy, and keep those things that are written therein: for the time is at hand.
I Corinthians 2:9: But as it is written, eye hath not seen, nor ear heard, neither have entered into the heart of man, the things which God hath prepared for them that love him.
Loss of Loved One
John 14:27,28: Peace I leave with you, my peace I give unto you: not as the world giveth, give I unto you. Let not your heart be troubled, neither let it be afraid. Ye have heard how I said unto you, I go away, and come again unto you. If ye loved me, ye would rejoice, because I said I go unto the Father: for my Father is greater than I.
Psalm 116:15: Precious in the sight of the Lord is the death of his saints.
Maturity
Galatians 6:2-4: Bear ye one another's burdens, and so fulfill the law of Christ. For if a man think himself to be something, when he is nothing, he deceiveth himself. But let every man prove his own work, and then shall he have rejoicing in himself alone, and not in another.
I Peter 6:2-5: For so is the will of God, that with well doing ye may put to silence the ignorance of foolish men: As free, and not using your liberty for a cloak of maliciousness, but as the servants of God.
I Corinthians 3:18: Let no man deceive himself. If any man among you seemeth to be wise in this world, let him become a fool, that he may be wise.
James 4:3: Ye ask, and receive not, because ye ask amiss, that ye may consume it upon your lusts.
Sexual Purity
2 Corinthians 10:5: We demolish arguments and every pretension that sets itself up against the knowledge of God. And we take captive every thought and make it obedient to Christ.
I Peter 2:11: Dearly beloved, I beseech you as strangers and pilgrims, abstain from fleshly lusts, which war against the soul.
Galatians 6:8: For he that soweth to his flesh shall of the flesh reap corruption; but he that soweth to the Spirit shall of the Spirit reap life everlasting.
Tithing
Malachi 3:8-11: Will a man rob God? Yet you rob me. But you ask, 'How do we rob you?' In tithes and offerings. 9 You are under a curse—the whole nation of you—because you are robbing me. 10 Bring the whole tithe into the storehouse, that there may be food in my house. Test me in this," says the LORD Almighty, "and see if I will not throw open the floodgates of heaven and pour out so much blessing that you will not have room enough for it. I will prevent pests from devouring your crops, and the vines in your fields will not cast their fruit," says the LORD Almighty. "Then all the nations will call you blessed, for yours will be a delightful land," says the LORD Almighty.
Suggested Reading
Life
Men
Wild At Heart - John Eldredge
Every Man's Battle - Stephen Arterburn
Every Man, God's Main - Stephen Arterburn & Kenny Luck
The Making of a Man of God (Lessons from the life of David) - Alan Redpath
Hard Times
Shattered Dreams - Larry Crabb
Relationships
Boy Meets Girl - Joshua Harris
The Five Love Languages - Gary Chapman
Men Are From Mars, Women Are From Venus - John Gray
Working on Yourself
The Purpose-Driven Life: What on Earth Am I Here for? - Rick Warren
The Seven Habits of Highly Effective People - Stephen Covey